A regular day in the classroom
In one class, students collaborate to solve an MLA formatting escape room; in another, they preview concepts from an upcoming Romantic literature unit by taking a magazine-style personality quiz and using it to make inferences about the Romantic and Rationalist movements.
My teaching philosophy isn't really about me at all. It's about them -- my students. My pedagogy is preeminently student-centered, influencing everything from my teaching style to my lesson planning to my selection of course content.
A student-centered classroom requires, first and foremost, that I get to know my students -- their strengths and weaknesses, preferences, and interests. At the heart of my teaching practice is the belief that relationship-building is one of the most significant ways to encourage students to invest in their learning.
Then, my role as the teacher necessarily shifts from that of a traditional stand-and-deliver lecturer (although at times, of course, lecture may still be appropriate) to that of a guide and coach. I seek to minimize the amount of "teacher talk" whenever possible and maximize the amount of student participation. In my classroom, I can often be heard saying some version of, "I need your full and complete attention for 10 minutes for a mini-lesson on addressing counterclaims, and then I'll set you free to work." My primary responsibility is to create opportunities for students to directly, meaningfully, and authentically engage with content. Additionally, I strive to always model for my students what such engagement in and enthusiasm for my content area looks like.
What's more, my student-centered lesson planning takes into account each student's unique skills and learning styles. I am highly aware of the need to differentiate in order to make course content accessible to all learners -- for instance, those with intelligences that are not traditionally valued in the classroom, those who are multilingual or English language learners, and those who have learning disabilities. Such differentiation shapes the ways in which I ask students to engage with content in terms of both accessing instruction and getting assessed on their learning.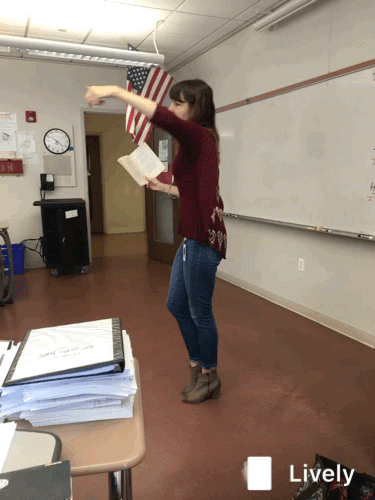 Reading and modeling enthusiasm for Macbeth with sophomores
Live Photo credit Danah Hashem
Finally, a student-centered classroom means honoring my students' backgrounds and interests in my selection of course content. I want to share with my students with a curriculum that is as diverse as they are -- for example, one that introduces them to both classic, canonical texts and texts by individuals whose voices have historically been marginalized, such as women and people of color.
To critics, this kind of approach might sound "mushy," but it does not preclude rigor, however. In fact, in a student-centered classroom, I can set high expectations for each student according to their individual capacity, always pushing them further than they thought they were capable of. One of my favorite aspects of the job, for example, is conducting individual conferences with students on their writing, discussing the impact of different stylistic choices and offering suggestions.
In The Literature Workshop: Teaching Texts and Their Readers, Sheridan Blau reflects on what he sees as the "fundamental paradox of teaching" -- that in the act of teaching, teachers engage in precisely the kind of meaning-making that they should ask of their students (3). He concludes that his job is, more than anything else, about "find[ing] ways to switch roles with them" (2). So I echo Blau in my belief that this isn't really a philosophy of teaching at all. It's a philosophy of learning.
Sample Teaching Materials
Grade 10, Literature Unit on Romantic Poetry
Grade 10, Literature Unit on Frankenstein
Grade 11, Literature Unit on The Catcher in the Rye & Psychological Criticism